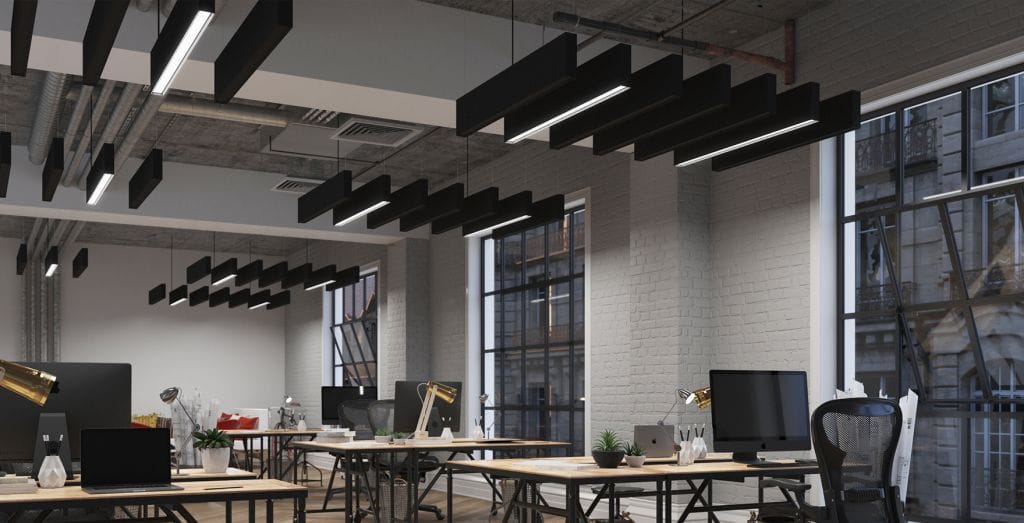 The EOS 1.0a minimizes high-noise and reverb levels that are common with multi-purpose open environments. Available in lit or unlit baffles, EOS 1.0a comes in an array of standard and custom colors. With a modern, architectural look, this luminaire will work with the aesthetic of any space, integrating the finest in illumination and sound absorption.
BAFFLES SPECIFICATIONS

Baffles are an attractive and economical way to reduce sound, echo, and lower reverberation times in large spaces.
Acoustic Baffle Housing Width: 2.25"
Luminaire Lens Aperture Width: 1.5''
Housing Material: 100% Polyester PET fiber
material
PET Thickness: 9mm
Flamability Data: Safe for interior spaces and
has passed the international (ASTM-84) fire
test standards.
Configurations: 4ft, 6ft, & 8ft Individual Units
System runs available in 2ft increments.
Height: 8", 10", 12", & 16"
Finish options
The EOS 1.0a comes in an array of standard and custom colors that allow for an elegant and artistic approach to lighting your space. The variety of color options along with the unique design and technology, make the EOS 1.0a one of our most versatile luminaires.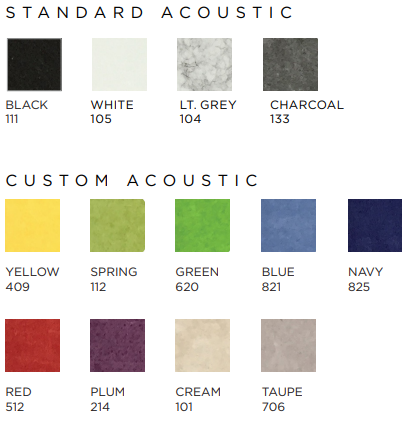 ---
NRC RATING

NRC stands for noise reduction coefficient and is the standard rating for how well a material absorbs sound. Different materials have different NRC ratings that range from 0.00-1.00. An NRC of 0 means that the product absorbs no sound. An NRC of 1 means that the product absorbs all sound. The higher the NRC, the better the product is at absorbing sound. The thickness and density of a product are two factors in calculating a Noise Reduction Coefficient. An acoustic product with a .95 NRC rating means that 95% of sound in the space is absorbed, while the other 5% is reflected.
| | |
| --- | --- |
| Material | NRC |
| Marble | 0 |
| Drywall | 0.15 |
| Carpet | 0.4 |
| Ceiling Tiles | 0.7 |
| Acoustic Panels | 1 |
L U M I N A I R E S P E C I F I C A T I O N S
ASTM C-423-17 reports are available upon request for selection configurations. These reports help calculate the quantity of products required to meet the acoustical requirements of a space.
NRC RATING FOR EPS 1.0a
12'' On Center 1.00
18'' On Center 0.75
24'' On Center 0.60
---